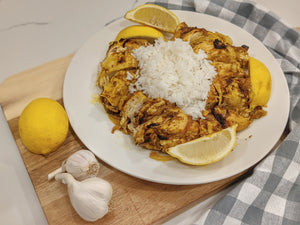 Oven Baked Chicken Shawarma
This chicken is truly the best! So much flavor in one dish. It is important to marinate your chicken, the flavors here are to die for, and the chicken will melt in your mouth. It's also a bit spicy from the red pepper flakes, so if you don't like heat, just omit them.


Ingredients
4 tbsp lemon juice freshly squeezed
1/2 cup olive oil
1 tsp salt
2 tsp cumin ground
2 tsp black pepper ground
2 tsp smoked paprika
1/2 tsp turmeric
1 tsp red pepper flakes
1/2 tsp cinnamon
4 cloves garlic minced
3 chicken breasts boneless and skinless
1 large onion sliced
2 tbsp parsley fresh, for garnish
Instructions
In a large bowl add the lemon juice, olive oil, salt, cumin, black pepper, paprika, turmeric, red pepper flakes, cinnamon, garlic, and whisk well. Add the chicken and toss making sure the chicken is well coated in the marinade. Cover with plastic wrap or foil and refrigerate for at least an hour. The longer the meat marinates the more flavor you'll have.

Preheat oven to 425 F degrees. Add sliced onion to bowl with chicken and toss well so that the onion is fully coated in the marinade. Add everything to a 9×13 baking dish. I didn't have much marinade leftover since the chicken absorbed most of it, so that's why I added everything to the baking dish. Spread everything evenly over the baking dish.

Bake in the oven until the chicken is browned and crisp on the edges, for about 40 to 45 minutes. If you want the chicken crispier on top, turn the broiler on to high and broil for 3 minutes until nice and crispy on the outside.

Let the chicken rest for about 5 minutes, then slice it into bits.

The ingredients are #whole30 compliant. I eat mine with cauliflower rice or roasted potatoes.
---