About Us
Locally farmed, naturally grown gourmet garlic
We are a family owned and operated farm in Uniontown, Ohio. Currently, we are growing seven varieties of hardneck garlic, using only organic farming methods to ensure the highest quality garlic. Most people don't know that there are different types of garlic beyond what you would typically find in your local grocery store and it is so exciting for us to share that with our customers. 
We welcome small orders from the public and offer bulk purchases for commercial kitchens and stores.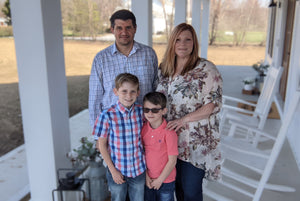 About the farmers
We are Mike and Stephanie Kress, first-generation farmers. 
When we began our farming journey, we envisioned a place where we could grow high quality garlic for our family and friends. We had our first growing season at the end of 2019 and a successful fall harvest in 2020. 
We have just begun this journey and we already have many ideas for this farm's future. When we move forward with these ideas, you will all be the first to know!