Sizing Guide
* ALL OF OUR APPAREL IS UNISEX SIZED, UNLESS OTHERWISE NOTED IN THE DESCRIPTION. 
IF YOUR ITEM OF INTEREST DOES NOT HAVE A SIZE CHART, PLEASE EMAIL US AT LEVOVALLEYFARMS.GMAIL.COM AND WE WILL BE HAPPY TO GET YOU THE INFORMATION YOU NEED.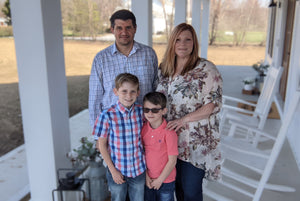 About the farmers
We are Mike and Stephanie Kress, first-generation farmers. 
When we began our farming journey, we envisioned a place where we could grow high quality garlic for our family and friends. We had our first growing season at the end of 2019 and a successful fall harvest in 2020. 
We have just begun this journey and we already have many ideas for this farm's future. When we move forward with these ideas, you will all be the first to know!