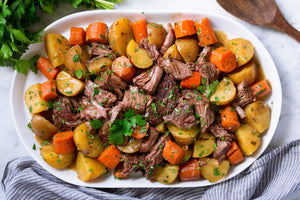 Fall Apart Pot Roast
Ingredients
1 tbsp olive oil or preferred cooking fat

2-3 pound Chuck beef roast

3-5 cloves of German Red garlic

1 large onion, sliced into rings

2 tbsp Worcestershire sauce

For Gravy: 1-2 tsp potato starch
Instructions
The first thing you want to do is brown your roast either in your crock pot or on the stove.

Season your roast with salt and pepper and onion powder.

Heat oil and place the onion slices into the oil and cook for about 5 minutes, stirring them so they do not burn. Move your onions to the side and place the roast into the pot, searing on each side for about 2 minutes per side. Once browned, add to your crock pot, if browning on stove.

Add 3-5 cloves German Red garlic (depending on size of roast and your love of garlic).

Place the rest of the vegetables into the pot and pour the broth over them.

Add in the Worcestershire sauce and stir to combine.

Cook on low for 7-8 hours.

Gravy: Use meat drippings and cooked garlic cloves for tasty gravy. Pour meat drippings and mashed garlic cloves into a saucepan (I just mash the cloves in the pan) and heat under medium heat.

Add salt and pepper to taste. To thicken, either add potato starch (mix 1-2 teaspoons potato starch with 1 tablespoon cold water and add this mixture to hot beef drippings) or cornstarch. As potato starch heats up it will thicken the gravy. Add more starch if needed.
---