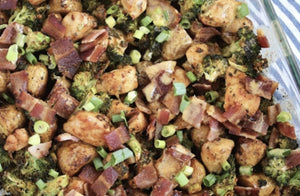 Loaded Potato and Chicken Casserole
Seasoned chicken and potatoes baked together in this flavorful chicken and loaded potato casserole. It's topped with an incredible sauce, bacon, cheese and green onions for one sensational dish!
Ingredients
2 lbs chicken breast cut into 1" cubes
2-3 cups broccoli florets (I used frozen broccoli)
1/2 white onion sliced then roughly chopped
5-6 garlic cloves roughly chopped
1 lb gold potatoes cut into 1" cubes
1/3 cup olive oil
2 tbsp hot sauce
2 tsp fresh ground black pepper
2 tsp smoked paprika
1 tsp salt
1/2 tsp Italian or herb blend
6 slices bacon
1/2 cup green onion, thinly sliced
Instructions
Preheat the oven to 400ºF.
In a large bowl, mix the sauce ingredients until well combined.
Add the potatoes and white onion to the bottom of a 9 x 13" baking dish. Drizzle with about 1/2 of your sauce, stir to combine, then transfer to the oven. Bake for about 30 minutes, stirring once halfway through.
Meanwhile, fry the bacon in a pan and set aside on paper towels to drain.
Using the rendered bacon fat, brown the chicken cubes over medium high heat (don't worry about cooking it through).
Add the browned chicken to the large bowl with the remaining sauce. Add the broccoli, garlic, and half of the green onions, and stir to coat.
Once the potatoes are done, pour the chicken and broccoli mixture over top. Bake for 12 to 15 minutes, or until the broccoli is lightly browned and chicken is cooked through.
Top the casserole with crumbled bacon and the remaining half of green onions. Drizzle with ranch dressing. Serve hot!
---