Shipping Information
Shipping:
All shipping methods are Standard Shipping (5-7 Business Days Processing Time). Rates are for the Contiguous 48 States. All other areas will be calculated based on weight and region, at checkout.
Order Amount                                  Shipping Price
$0.00 - $58.99                                  varies
*$59.00 and up                                  FREE 
*Free Shipping:
Our free shipping promotion applies to orders with a subtotal of $75 or more (pre-taxes/post-discount code) & to shipping addresses within the contiguous United States. All other regions will be charged shipping based on weight and location. We reserve the right to choose the most economical carrier to ship your package. 
Most orders ship within 5 - 7 business days, but can sometimes be delayed due to high order volume.  If you have selected "Priority Mail/Parcel Select Ground 2-3 Day Shipping", this does not mean your order will arrive 2-3 days after you've ordered. It means that your order should arrive 2-3 days AFTER it has left our possession. 
The most affordable shipping method (Standard 5-7 day) is always our suggestion. A tracking number will be sent via email when your shipping label has been created. LVF is not responsible for items shipped to the wrong address that you provide, so please make sure everything is correct before checking out.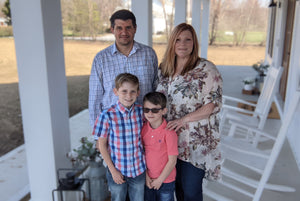 About the farmers
We are Mike and Stephanie Kress, first-generation farmers. 
When we began our farming journey, we envisioned a place where we could grow high quality garlic for our family and friends. We had our first growing season at the end of 2019 and a successful fall harvest in 2020. 
We have just begun this journey and we already have many ideas for this farm's future. When we move forward with these ideas, you will all be the first to know!